Research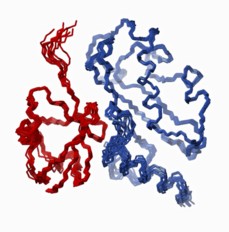 The focus of our research is to gain an understanding of biological functions carried out by proteins by determination of the structures of proteins and their complexes, and the kinetics, thermodynamics, and dynamics of proteins and protein-ligand interactions. These goals are achieved through application of nuclear magnetic resonance (NMR) spectroscopy.
Protein Ubiquitination
Currently, we are studying the structures and interactions of proteins involved in lysine-63 linked protein ubiquitination. This pathway is important in cellular processes such as DNA repair and the immune response.
Research Resources
The laboratory is fully equipped for protein expression in E. coli, protein purification using FPLC, and protein analysis/structure determination using solution state NMR spectroscopy. Some of our resources include:
Access to Varian Inova 500, 600, and 800 MHz NMR spectrometers.
Custom AKTA FPLC protein purification systems.
Temperature-regulated shaking incubator for growth of E. coli.
Preparative and benchtop centrifuges.
-80 and -20 °C freezers, general purpose refrigerators.
UV/Visible spectrophotometer.
PCR thermocycler.
LINUX work stations, iMac computers.
Access to High Performance Computing through WestGrid.
Research Team
Anamika: Graduate Student
Manoj K. Rout: Postdoctoral fellow
Brian Lee: Postdoctoral fellow
Alumni
Craig J. Markin: Postdoctoral fellow, Stanford University
Michael J. Lewis: CHENOMX, Edmonton, Alberta
Dave Hau: Graduate student, University of British Columbia
Sean McKenna: Associate Professor, University of Manitoba
Linda Saltibus: Technical staff
Melissa Kean: Technical staff
Pascal Mercier: Research staff
Anton Cherney: Summer student
Francis Tenorio: Summer student
Information regarding Graduate studies:Department of Biochemistry, University of Alberta.
Funding Sources

Our research is currently funded by NSERC and CIHR